Bee venom collector
COL001
Express Shipping

Return warranty

Safe payment
By purchasing this item you can get up to 6 loyalty points. Your cart will have 6 points that can be transformed into a discount voucher of € 0.42
This venom collector is a very simple option to extract bee venom from hives since it does not require batteries or external power. It works with two AA batteries and has a range of 5 months at full capacity. It is made in Europe and has a 2-year warranty.
Furthermore, it incorporates a microprocessor that monitors and adjusts the pulses, based on humidity, the number of bees, how long the device has been running, the general condition of the collector, and the battery level. The microprocessor is installed at the bottom.
It has an automatic shutdown. The device automatically turns off after 45 minutes.
On one side of the device you will notice 2 multicolored LED indicators, which provide you various information such as the remaining time, the battery level and whether the device is working properly.
INSTRUCTIONS FOR USE
It is placed in front of the hive (it is possible that in some hives the entrance must be adapted) and produces small discharges that excite the bees and make them sting on the glass, thus spilling the poison on the glass plates that is later extracted with a scraper spatula once removed the apparatus from the apiary.
Bee venom should not be more than necessary in sunlight. The sooner the entire operation is done, the better.
Best results are obtained by running it for approximately 45 minutes per hive, and then this hive has to "rest" for approximately 1–2 hours. During this time, you can use the collector on another hive.
At the end of each business day, the collector wires should be cleaned. It can be done with alcohol wipes or a damp eyeglass cloth.
We recommend placing them in apiaries that are away from areas where there is movement of people nearby, since when placing these devices, the bees become aggressive and could cause problems around them.
PERFORMANCE
In 45 minutes, 0.03 grams to 0.09 grams of poison can be removed. The amount of bee venom will depend on the health and strength of the hive. Also, the outside temperature and the season. Sometimes, though rarely, it is necessary to hit the hive to get more bees out.
FEATURES
It includes:
Bee venom collector
Glass plate
Plastic gloves
Metal support to hold the device
Bee venom scraper
Manual
Bee venom container
Collector dimensions 250 х 158 х 38 mm
Dimensions of the glass plate 201 х 140 х 4 mm
Weight 900g
VIDEO
There are not accessories for this product
If you have any questions about this product, please make a question to solve it.
Sorry, an error has occurred while making the FAQ.
You must accept the the Privacy Policy.
The FAQ has been created correctly. Please wait to be verified.
Podría Interesarte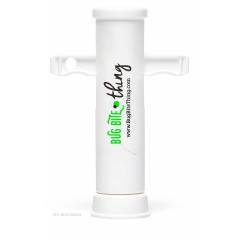 starstarstarstar_halfstar_border